Dental implants
We are often not aware of how the loss of a single tooth affects our oral health. If the loss is not in the visible (aesthetic) zone,  many people do not pay much attention to this. The empty space resulting from this leads to deterioration of the jaw bone as well as to the movement of the adjacent teeth which affects the function of the whole chewing system.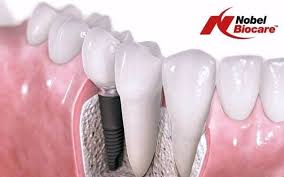 Dental implants are artificial substitutes that are embedded in the jaw bone and serve as a substitute for natural roots. They are used at the loss of one or more teeth as well as with wholly edentulous jaws being used as carriers for a crown, bridge or anchorage of a prosthesis. The implant consists of a titanium anchorage in the shape of a screw that is embedded in the bone and the part carrying the prosthetic replacement.
Implantation is preceded by a detailed analysis of the x-ray imaging of both jaws and the attention is focused on the quality and the amount of the bone as well as the relationship of the surrounding jaw structures (sinuses, vicinity of the nerve), the distance of adjacent teeth.

The surgical procedure of implant placement in the bone is a quick and painless procedure that is carried out under local anaesthesia. In certain cases, it is possible to remove the tooth and to immediately place an implant in its place in the same procedure. Thereafter, the phase of osseointegration follows ( the integration of the implant and the bone) lasting 3-6 months and then the making a prosthetic replacement. If when placing the implant, it is estimated that it is stable enough (primary stability), it is possible to immediately make a temporary crown, which is particularly important in the aesthetic zone. Implants provide excellent fixed prosthetic solutions for edentulous patients who are uncomfortable wearing a total prosthesis.
Depending on the bone condition, there is the possibility of making a fixed bridge on 6 or 4 implants (All on four technique) or, at the lower jaw, incorporating two implants to which the prosthesis is hooked and thus stabilized, so it becomes more comfortable to wear. All on four is a technique where the bridge is tightly fixed to four implants and thus solid and aesthetically beautiful teeth are obtained. It is an excellent replacement for bone and gingiva loss. In a short time after implant placement, the patient is given a temporary bridge for three months until the bone is stabilized after which a permanent bridge is made.
In our dental practice, we use renowned implant systems Nobel Biocare and Avinent. About an implant, just like a healthy tooth, you need to take care. Hygiene of the oral cavity and regular examinations will contribute to the longevity of your implant. The feeling of teeth on the implant is completely natural and one can forget that it is not his own tooth. The artificial tooth you get by implantation s the best thing after healthy natural teeth.